Lead magnet examples and landing page ideas for coaches. Last week we discussed that an effective email marketing campaign for coaches requires effective lead magnets. This week's blog for marketing for coaches focuses on examples of lead magnets and landing pages for coaches.  This week's blog for marketing for coaches focuses on examples of lead magnets and landing pages for coaches.  Over the years, I have tried many different lead magnets and I want to set expectations for results.  Unless you promote the lead magnet and have a tracking system in place on our website to see who has responded and what their repeat visits are, you are wasting money.  And ignore your one social media savvy fanatic who has thousands of people following her and can get business on a whim.  She is the black swan.  Let's talk about the real world.
Types of Lead Magnets
Most coaches use eBooks as lead magnets.  But you can use video lessons, webinars that you have recorded, presentations that you have made to networking groups, and podcasts that you package inside a sign-on section of your website.  Start out by taking a content inventory.  I searched my marketing site and guess what – I found a blog that I wrote in 2017 about conscious marketing lead magnets.  You can often repurpose information that you have already created.
Lead Magnet Examples
A lead magnet is a piece of content that you can use to induce a potential customer to give you their name and email address.
Specific examples include:
Free downloadable reports that contain useful guides, tips, or other information. Examples include a list of recipes, a guide on how to use internet marketing, and instructions for growing an indoor vegetable garden.
Templates for things your clients want to create, such as Facebook ads or blog posts.
Videos that answer their top-of-mind questions, tell them how to do a task for which they're seeking instructions, or give tips or walkthroughs that enable them to get a result they desire.
Questionnaires that help people to evaluate or diagnose their businesses, relationships, diets, or other relevant areas of life. These are highly unique and personal than articles and reports and can help you to learn more about your clients while helping the clients to see how much they need you.
Tools and toolkits your readers can use to make a task easier.
Resource lists.
Digital catalogs of your products, so your readers can see what's available more quickly and conveniently than they would if they had to wait for the snail mail version. These catalogs should include buying links to make it easy for your customers to make a purchase.
A discount or free shipping on one of your products or programs.
Free trials or samples.
eBook Lead Magnet
I have created a number of eBooks over the years that I have used as lead magnets and I pretty much did everything wrong.  I spent a lot of effort building an eBook that someone could use to handle Local SEO for their local brick and mortar business. It is forty pages long.  No small business owner has time to read a 40 page eBook on how to do local SEO.  So, create an eBook that meets your clients where they are.
I remember a few years ago, I was presenting a session on healthy eating to a group of women who were eating the standard American diet.  I wanted them to eat a green smoothie with fat, fiber, and protein in it for breakfast. They were currently eating a bagel or a pop tart.  I should have been offering the easy steps to a healthy breakfast.  I knew the smoothie would hold them without cravings for five hours if they would eat it.  But it was too much for them to consider and they tuned out the session.
So in creating an eBook make it simple and information that people can consume easily.  That is why Deepak Chopra introduces meditation with a free 21-day meditation challenge that is mostly entertainment.  He has been doing them for years now with Oprah. It meets his audience where they are at.  Eventually, some will attend a Chopra Center Retreat and spend thousands of Dollars.  So offer a baby step introduction to your area of expertise.
The qualities of the lead magnet:
It is short
It is specific
It is easily consumed
It is useful and actionable
I go over these in detail on the conscious marketing lead magnet blog entry.
Lead Magnet Landing Page
The landing page should be visually appealing and only ask for the first and maybe last name of the potential client and their email address.  The least amount of information that you can ask for the better. MailChimp and HubSpot offer easy-to-use tools to build landing pages.   Here is an example of a landing page I created last fall using those two tools: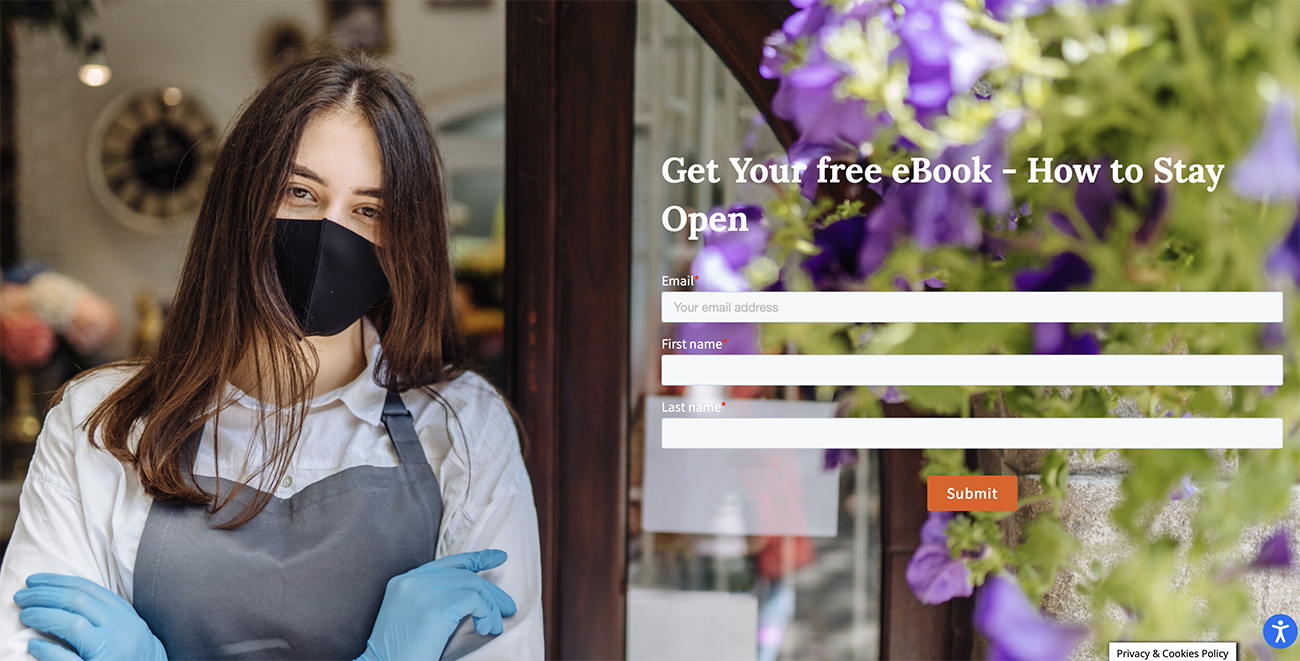 To keep things as simple as possible I use a page builder (Beaver Builder) which can be used with any WordPress Theme and I embed a HubSpot form in the page.  While HubSpot can build landing pages as well as MailChimp, I find them difficult to use.  And as you can see with the handicap symbol and the Privacy and Cookies policy indictor, I am complying with any GDPR and ADA restrictions.  These other tools are usually not in compliance with them.  I believe in making my websites as accessible and as compliant as is possible. If you are a coach and want to see a full lead magnet in action, please check out my eBook on understanding the total customer experience, by clicking on the image below. You will receive my drip campaign delivered through marketing automation.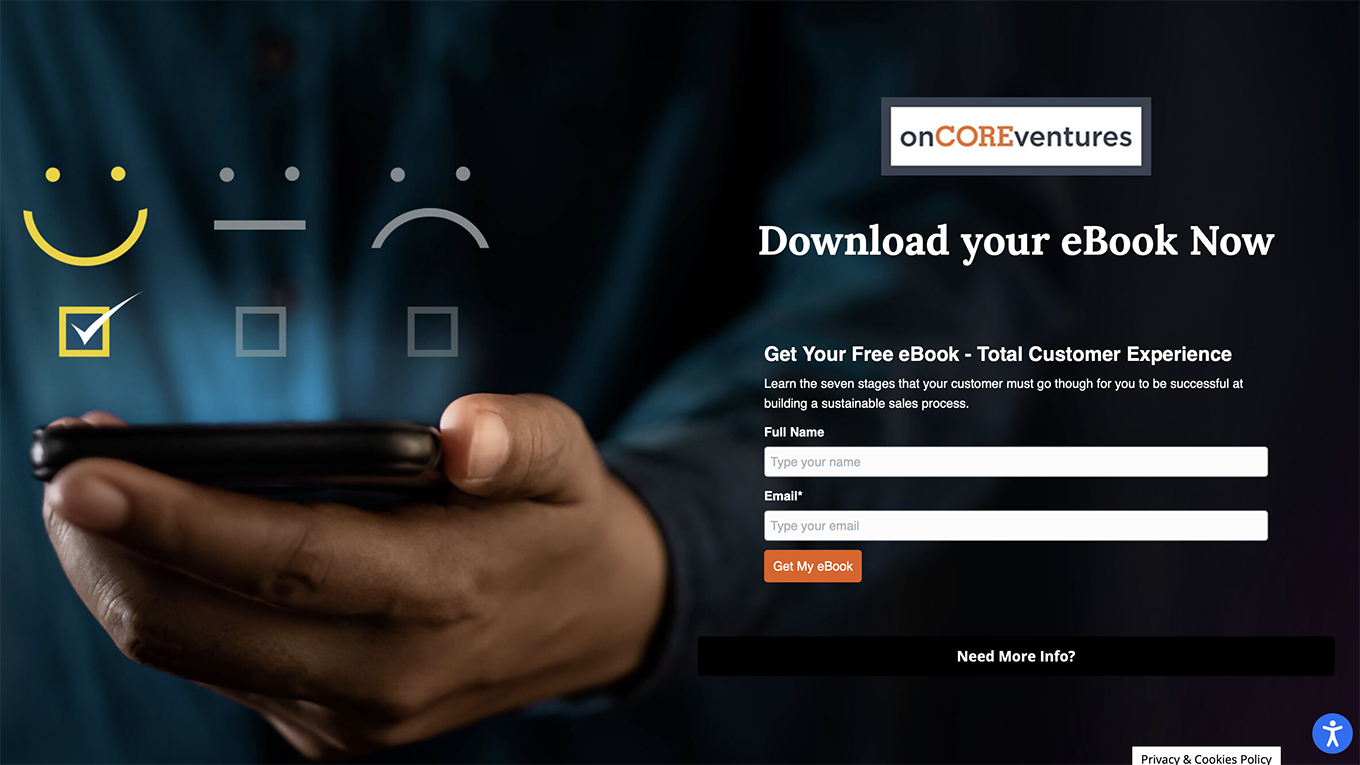 Technology Considerations
I have been frustrated for years with different email systems, and landing page systems, and forms products.  I have used Lead Pages, Constant Contact, MailChimp, Hatchbuck, HubSpot, SalesForce, Act, Insightly, Freshworks, and others that I am sure I have forgotten. Until recently, I had cobbled together a system that I use and have recommended.
My thinking on this was simple. Most coaches will not be able to buy a complete marketing automation system until their practice is generating six figures or more.  So, I have cobbled together a relatively inexpensive system that uses my website – or my clients' website,  Beaver Builder, HubSpot, and MailChimp. While it is not completely seamless, it also only costs $50 per month.  This is compared to $800 per month for HubSpot's professional version.
Most coaches will need two types of signups to start with.  You will want your potential clients to sign up for your newsletter so you can demonstrate your expertise on a regular basis.  My newsletter sign-up page is an example of how you can do that.  You will also want to create lead magnets.  The above lead magnet page is still live.
If you have a little bit more money you might want to consider spending $100 or so per month to use Active Campaign as an integrated system.  I was so frustrated with the management of multiple landing pages and multiple drip campaigns that I got very tired of trying to keep MailChimp in sync with HubSpot. And HubSpot's landing page tool is pretty limited.  Here is a side-by-side comparison of Hub Spot on the right and an embedded form on the left. The form on the right looks inferior to me.  Maybe I can master yet another tool, but I prefer using technology that I already know will work.
Newsletters and tracking of client actions
I use a newsletter sign-up landing page, with an embedded Active Campaign form. The page that I link to is built in a page builder so you can build it with the cheapest form of Active Campaign which is only $9 per month for 500 contacts.  You can add on CRM for $40 per month'
Having all mail and all CRM in one tool makes sense to me as a coach myself.  The small additional cost of Active Campaign over Hubspot Entry level (starter) and MailChimp has convinced me to recommend this solution to my coaching clients for marketing automation, CRM and newsletters.
Promotion of Lead Magnets
You need to promote your lead magnet.  The easiest ways are through social media and through PPC advertising.  Both cost money.  You can expect to spend about $50 per qualified lead if you do this correctly.  That is why you need to understand your ideal client, solve her problem and promote the solution to her in terms she can understand. If you follow the process from beginning to end, you should have no problem finding the right social media mechanisms.  We will discuss advertising in a future blog.
Need to Brainstorm your approach?
I am always happy to talk to new coaches about how they can be successful in a complimentary session to see if we can help one another grow our coaching practice, please feel free to send me a request on the form below.  And, please be sure to subscribe to my newsletter on growing your coaching practice.
GET STARTED WITH FREDERICK GEIGER – ON-CORE VENTURES
If you are like me – you need someone to bounce ideas off of – I am happy to give you time to do just that.
The best way to see if we are a good fit is in a free complimentary discovery session.
GET STARTED WITH FREDERICK GEIGER – ON-CORE VENTURES
If you are like me – you need someone to bounce ideas off of – I am happy to give you time to do just that.
The best way to see if we are a good fit is in a free complimentary discovery session.